We're @ NORDSTROM NYC! Day 14 of our shop at Nordstrom!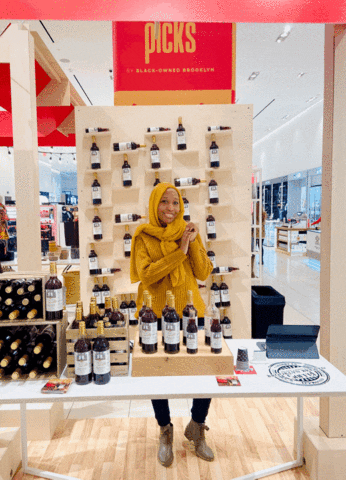 Today has been a good day! We're back for day 14 at Nordstrom for our PopUp shop at Mainstage, right in the middle of Nordstrom at 225 West 57th street NY and visible from all entrances. During these past 2 weeks, I kinda feel like I'm back in the world.... out in these streets as we say. This PopUp is the first we've done since March 2020 when Covid shut down that kind of action.

It's not only special because of the magnitude of it ie being at Nordstrom (a store that has huge brand recognition) but also because of all of the real support Nordstrom has put behind this venture to help make it a success for us. Our shop is open all Nordstrom hours from 10 am-8 pm Monday-Saturday and 11 am-7 pm on Sunday. I'm personally there about 3-4 days of the week so that I can meet y'all and share drinks (yep, we're sampling all day) and sell, sell, sell to all of our enthusiastic customers.
Our PopUp shop is open now until March 6th. And don't you know that our retail sales during this period have larger implications for where else you'll be seeing us at Nordstrom(s) and beyond? So please, come through and bring & send your friends and family. Download the flyer below
Visit us during this momentous occasion at one of NYC's top retailers & get your Authentic nonalcoholic Caribbean sorrel Mocktail + mixer directly from us at our PopUP on the 1st floor, mainstage now- March 6th, 10:00 am to 8:00 pm!
Many thanks to Black-Owned Brooklyn's Jummy's Pics for creating this experience and opportunity with Nordstrom.
Looking forward to seeing you soon!
Not at NYC?
Order online
and use
BBSLove
at checkout to get 10% off your purchase.