Authentic Happiness the Caribbean and Sober Way!
Welcome to Brooklyn Brewed Sorrel, where sobriety is the ultimate luxury. Our founder, Nzinga, created this complex and delicious sorrel as a celebration of her vibrant Caribbean culture and appreciation for festivity, style, and sobriety. Her father passed down his recipe, which originated in West Africa, and she elevated it in the heart of Brooklyn. Our mission is to offer an experience that's more than just a drink – it's a celebration of life without the negative effects of alcohol. At Brooklyn Brewed Sorrel, we use only the finest ingredients to ensure every sip of our authentic sorrel is a taste of pure joy. By choosing us, you not only support our mission but also communities in need through our charity efforts. Join our movement and experience the vibrant taste of Brooklyn Brewed Sorrel today. Order here
Learn about our mission + story
CUSTOMER Reviews
I love it!!!! I didn't know about sorrel before but after I tried it for the first time it quickly became a staple for any celebration or family event.

Katherina M
I opened mine yesterday. For medical reasons, I haven't had wine in 10 years. This tastes BETTER than I remembered wine ever tasting!

Chrisy
Each sip of this incredible traditional brew is a journey: The beginning is sweet and rich, the finale a complex and pleasant spice. And the two are bridged together with a gingery bliss

Zamaan
Listen, I need to figure out how to get this on tap at my house! NOBODY makes Sorrel like this brand and the packaging is perfect for gifts as well as dinner parties. THANK YOU for making such an elevated NON-ALCOHOLIC option

Evelyn R. Cooke @_evcooks
Love Brooklyn Brewed Sorrel! It's an excellent beverage for any occasion that certainly get's the people talking! Many ways to have, my fave is chilled with a spritz of lemon or lime. 

@liyabella
This drink is amazing! Just a great addition to any dinner party or just something to wind down to at night, delicious! 

Fatimah A
My wife absolutely loves this. I'll be in trouble not to get a bottle.

@legacymaker
Amazingly Authentic and homemade tasting. I love this during the holidays or in the evening when hosting guests. Its always a conversation starter. 

Krystyna @theprintuplist
I had mine shipped all the way to the Netherlands. That says it all I guess :)

Faisal M
An authentic mocktail. Caribbean Heritage Preserved.
A Caribbean non-alcoholic drink tradition.
From the Caribbean, all the way to Brooklyn, NY. Our non-alcoholic Sorrel is based on  a coveted family recipe passed down from our Ancestors, many of whom crossed through Ellis Island. 
Shop Classic Carribean Sorrel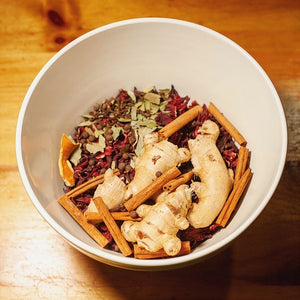 Ingredients you can name and trust.
Made with only natural ingredients: sorrel (roselle flower), ginger, cinnamon, allspice, bay leaves, clove and orange peel, our sorrel is brewed to perfection, bottled and aged + naturally preserved. Its taste is smooth, florally sweet and a little spicy and leaves you feeling refreshed and satisfied. 
Learn about our mocktail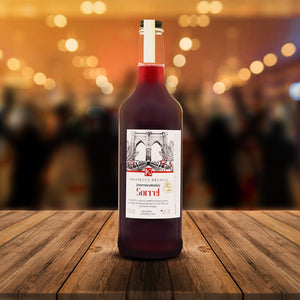 A non-alcoholic drink that tastes better than wine.
Brooklyn Brewed Sorrel is enjoyed by fans all over the country from the foodie, to the actively sober and sober-curious. It's perfectly complex, well-balanced and smooth. Great for dinner-parties, gifting or just relaxing at home.
Sober, Curious & Adventurous?
Never miss a toast! Enjoy Happier, Healthier & More Connected Drinking the Caribbean and Sober way.