Visit us at our new Nordstrom NYC location!
We're taking the main stage with this new collaboration.
Starting Feb. 14th to Mar. 6th, Brooklyn Brewed Sorrel will have its own shop at Nordstrom NYC's department flagship store on west 57th street, Manhattan. We'll be taking center stage as part of  Black-Owned BK Jummy's picks pop up for an immersive shopping experience. During these days, from  10 am to 8 pm, you'll be able to shop with us and 7 other top Black owned brands in person.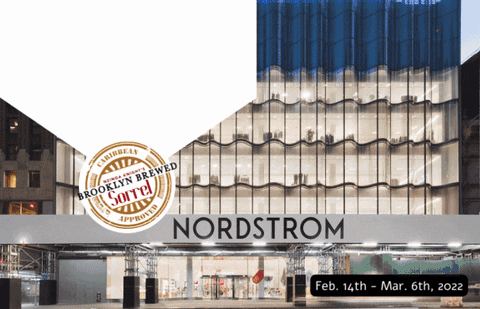 They say about NYC that "If you can make it here, you can make it anywhere".
Well, for the past several years we've built our business here. Now, this opportunity to have  our own shop at Nordstrom NYC's mainstage feels like we're taking things to a new level! We look forward to seeing you there! You can sign up for reminders on our
Facebook page here
.
Needless to say, we're excited and we'd love to see you there and we'd love for you and your friends to spread the word and help make this undertaking a major success not just for us but also for
Black-Owned Brooklyn
and for
Nordstrom
.
We get the feeling that when they see customers get excited about supporting amazing Black-owned businesses, this won't be the last opportunity they'll create for entrepreneurs like us- which means even more exciting finds and purchases for you!
So here's your official invitation: We invite you to celebrate Black History Month with us in person from February 14, 2022, to March 6, 2022. Come and say hello. We'll be at the 1st floor of Nordstrom NYC Flagship Store in the Mainstage area. We'll be visible from all entrances. Look for the sign that says "Jummy's Picks" - We'd love to see you there!
Not at NYC? You can still shop with us. Click the golden button below.
What our customers say about us.
"This is a great beverage that goes well with all your special dishes. Highly recommend it... get more than one bottle because you'll be angry when you drink it up and then have to wait for a new shipment...

Angela S.

" I placed my order and it was received in two days, along with a thank you email. Great customer service and an amazing product. Congratulations and praying for your continued success. Keep up the great work.

Michelle A.
Read more blogs.